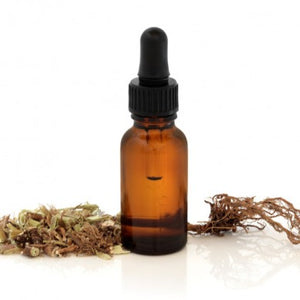 ***This listing is for one 2oz or 4oz bottle of herbal glycerite***
This is a tonic formulation I've been working on for some time now. It is a highly concentrated extract of a variety of adaptogens that may support healthy testosterone levels, increase protein synthesis, enhance libido, and reduce stress and fatigue. These herbs have been carefully selected for their synergistic effects, working together to promote vitality.
Ingredients: red Korean ginseng, ashwagandha, cistanche, maral, ajuga turkestanica, ginger, polyrhachis ant extract, safed musli, tribulus terrestris, horny goat weed, distilled water, pure organic glycerine
I suggest using between 3-6 droppers of this tonic 1-3 times per day. This tonic can be taken on its own orally or sublingually, or mixed into tea or another drink of your choice.
Make sure to store this in a cool place away from heat or light. Refrigeration is a good way to do this, though it isn't required. Glycerite extracts like this have a shelf life of roughly 14-24 months.
Caution: If using ashwagandha with a history of hyperthyroidism, cycle use and consult with a physician to get your hormone levels tested periodically, as ashwagandha may stimulate thyroid function. Many of these herbs specifically increase testosterone and other androgens, and may not be beneficial for those with hormone disorder or hormone-driven cancers. This formulation should not be taken during pregnancy.