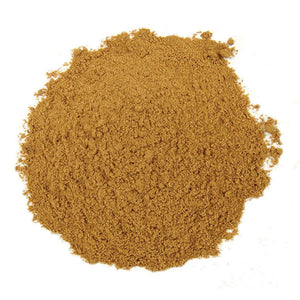 ***This listing is for one 4oz bag of this blend***
For some time now I've wanted to create this blend as an alternative to coffee, combining many herbs I use as an energy boost myself. An "adaptogen" is a term used to describe any herb that releases stress and balances various systems throughout the body. 
Ingredients: Criollo cacao, cacao extract, black maca, cordyceps dual-extract, lion's mane dual-extract, cistanche extract, catuaba extract, muira puama extract, cured fo-ti, rehmannia extract, and benfotiamine.
This blend can be brewed in tea, used in place of coffee in a french press or pour-over, mixed into smoothies/yogurt, or taken orally. A good starting dose may range between 1-5 tsp per day, or 2-12 grams. I recommend starting small and working your way up 1 tsp at a time until you find your sweet spot.

To get the maximum benefit from this blend take a couple days off per week, though daily dosing will still provide an excellent adaptogenic energy boost. The blend tastes sweet, earthy, and with a hint of chocolate. It's unsweetened, but you can add honey to taste. Enjoy!