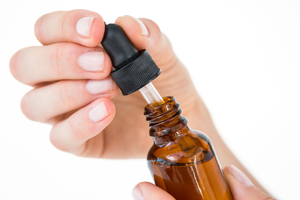 The Brain Tonic is a concentrated and all natural herbal glycerite, comprised of a synergistic blend of herbs, formulated for brain, nervous system, and endocrine glands support. Each Tonic bottle is 30ml or 1 fl oz.
Dosage
3 drops = 1 dose. Take 3 drops three times a day, or as needed.
Ingredients
Pure organic glycerine
Magnesium chloride dissolved in distilled water
Astragalus membranaceus
Bacopa monnieri
Nymphaea caerulea (Blue lotus)
Centella asiatica (Gotu kola)
Hericium erinaceus extract (Lion's mane)
Magnolia officianalis (Magnolia bark)
Avena sativa (Oat straw)
Paeonia suffruticosa (Red peony)
Polygala tenuifolia
This tonic is a replication of the tonic created and sold by Grimm's Apothecary (@Grimhood on twitter). The name and formulation is used with the creator's permission. As with all our products, this tonic is not intended to treat, cure, or prevent any disease.