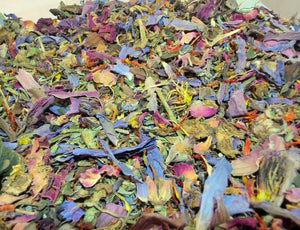 ***This listing is for 1oz of this blend***
This blend is a mix of empathogenic and aphrodisiac herbs, which can enhance the emotions and provide a calming or stimulating effect depending on the dose. This blend contains blue lotus, red lotus, rose petals, damiana, kanna, and safflower petals. All herbs used are either organic or wild-crafted.
A good dose for this blend seems to be somewhere between 0.5-3 tbsp, or a few pinches. At low doses the blend seems to have a calming effect, then grows more stimulating as the dose increases, though each individual response is unique. As with any herb or supplement, it's best to start with a low dose and taper up.
NOTE: Kanna increases dopamine and serotonin, and it should not be used if you are on any SSRI or MAOI medications. It may also potentiate the effects of some common stimulants like caffeine.